Mulch Try our Product calculator to find out how much you need.
Delivery of bulk, Leaf mulch, Budget cutter, Chocolate and Red Designer Mulches, Triple shredded hardwood and Cypress mulch, and ASTM Certified Cypress Playground mulch delivered through out Raleigh NC areas, Butner, Cary, Creedmoore, Garner, Morrisville, Raleigh, Rolesville, Wake Forest and Youngsville.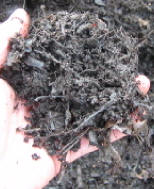 Leaf Mulch Image : Our leaf mulch is aged 2-3 years from local leaf collections. It holds color very well and does not fade. It is pH neutral. One advantage of leaf mulch, is that after one year, plants can grow directly in the mulch. It is our most recommended mulch for first time mulching of flower gardens. It is the only mulch suitable for growing vegetables. We recommend it highly, because it breaks up clay soils here in Raleigh and adds more nutrients compared to other mulches. It holds moisture the best of all mulches. It is has very high nutrient content and adds 70-90% more nutrients to your plants than traditional mulch. It adds the most microbial life to your soils of any groundcover mulch. You will see a positive difference in your plants with it, We guarantee it.
Triple Shredded Hardwood Bark The highest grade hardwood mulch. It is made from a variety of hardwoods and then aged eight months. It is resistant to water erosion and washout. Compared to our Leaf Mulch, it is more decorative but less nutritious. It is a great choice for weed prevention. Triple shredded Hardwood is perfect for use in your flower bedding areas. 1-3 inches average length fibers. It is a beautiful dark brown rich in color. mulch will last approximately 1 year before breaking down. Dark sold out
Triple Shredded Hardwood bark: ( Med Brown ) Image :: Same as above but lighter in color. The lighter color comes from a shorter aging process. It has a higher content of red oak bark. It is available in the summer and fall seasons only.
Chocolate Designer Mulch: Image Made from shredded new hardwood and stained (EPA approved) in a variety of colors. As well as Chocolate, we also offer Black and Red decorative mulches. It holds its' color for approximately 10 to 11 months under severe conditions such as intense sunlight with sprinkler systems. Under more natural conditions it's color can last over a year. The mulch itself will last 2 to 3 years. For our Designer mulches, it is recommended to lay at least 3 inches of product, so that when color starts to fade, you can roll over the mulch and have 10-11 more months of vibrant color.
Budget Cutter Mulch Image : , Made from a blend of hardwoods and softwoods
919-870-9771 or 795-1885